How To Stay Warm And Dry During Your Winter Boating Expeditions
Boating is often viewed as a warm weather activity but that doesn't mean you cannot venture out into the deep blue when it is cold. Winter boating and fishing expeditions can be very refreshing and can help you combat the winter blues since you will certainly feel a lot livelier after your excursion. If you want to stay comfortable and dry during winter boating adventures, then it is best to take a couple of extra precautions like the ones we will discuss next.
Invest In a Good Bimini Top
A sudden unexpected rainshower can leave you soaked and chilled to the bone. A good way to stay dry and keep your belongings from getting soaked is by installing a bimini top on your boat before you go. A bimini top is a type of canvas top that is designed to sit over the cockpit of the boat. The canvas top is usually supported with aluminum or stainless steel frames and they have a collapsible design so you can stow when not required.
Bimini tops can greatly vary in size and you can even find some top extensions to make these canvas roofs even bigger.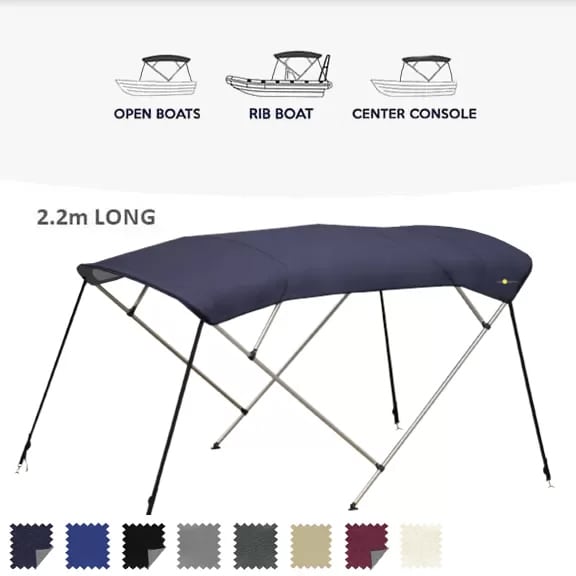 Consider a T-Top
T-Tops are another great option which provide cover from both rain and sun. These T-shaped tops will keep your electronics nice and dry and give you a safe place to stand in case there is a sudden flash of rain.
Set Up The T-Top Enclosure
Spray cover enclosures can be fitted to some T-tops. These enclosures are often made  from clear water proof sheeting that will protect you from those gushing winds and breaking swells yet allow you to still maintain good visuals while out on the water. T-top enclosures are terrific for keeping you protected from when the wind picks up will keep you nice and dry.
Wear Good Foot Protection
Boat decks tend to get wet pretty fast when it is cold and misty out on the open waters. If your feet become too cold, your entire body will soon start to feel frosty. It is best to wear a good pair of waterproof deck boots when on the water during Winter. These boots can be further insulated by wearing thermal socks.
A Water and Windproof Jacket is always a winner
Even the warmest of outfits can become chilly if it gets wet. A waterproof and windproof outer jacket is a good investment even if you have a bimini top and enclosure on your boat. This type of outer garment will keep your body nice and dry even when you get sprayed.
Master Layering
Your body will feel a lot warmer if you have a thick layer of insulating clothing underneath your outer waterproof jacket. It is best to wear layered clothing like a thermal base layer with wool or goose down mid-layer and a waterproof outer layer. These different layers are great for keeping the warmth trapped inside when it is freezing, cold and wet outside.
Take Along Warm Beverages
Warm beverages can do wonders for raising your core temperature when you are all frosty. You should invest in a good thermal flask and fill it with warming sweet beverages like hot chocolate or some coffee so you can stay warm and hydrated during your trip.
No amount of clothing will keep your body warm if you are exposed to moisture and icy cold winds. The best way to sty safe during boating expedition