Sailboat Bimini Top – Stainless Steel
Introducing the Oceansouth Sailboat Bimini Top – Stainless Steel, a premium addition to our bimini top lineup that sets new standards for professional-grade shade solutions. Crafted with meticulous attention to detail, this bimini top features a robust 25mm Double wall stainless steel 316 framework and components, offering unrivalled strength and corrosion resistance. Whether you're a seasoned sailor or a recreational boater, this bimini top ensures a polished finish that enhances the aesthetic appeal of your sailboat while delivering exceptional performance.
The Sailboat Bimini Top boasts a 100% Dope dyed two-tone polyester ATLAS canvas from our GOLDEN RANGE, known for its remarkable durability and resistance to the elements. The canvas is meticulously stitched with top-stitched double seams, sewn using UV bonded thread, ensuring maximum strength and longevity. Additionally, it comes with integrated storage boot and support poles, providing added convenience during installation and storage. Elevate your sailing experience with the Oceansouth Sailboat Bimini Top – Stainless Steel, a high-quality, professionally designed shade solution that not only shields you from the sun but also adds a touch of elegance to your sailboat.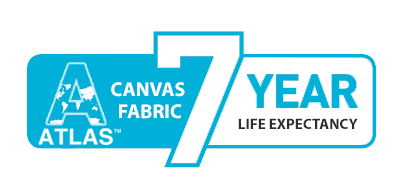 25mm Double wall stainless steel 316 framework and components.
100% Dope dyed two-tone polyester ATLAS canvas *GOLDEN RANGE*
Top stitched double seams, sewn with UV bonded thread for maximum strength
Integrated storage boot
Support poles supplied

| MOUNTING WIDTH | CANOPY WIDTH | LENGTH | HEIGHT | ORDER CODE |
| --- | --- | --- | --- | --- |
| 1.9m – 2.1m | 1.75m | 1.3m | 1.35m | NA 065-1 |
| 2.1m – 2.4m | 1.95m | 1.3m | 1.35m | NA 065-2 |
| 2.4m – 2.7m | 2.25m | 1.6m | 1.55m | NA 065-3 |
| 2.7m – 3.0m | 2.55m | 1.6m | 1.55m | NA 065-4 |
| 3.0m – 3.3m | 2.85m | 1.6m | 1.55m | NA 065-5 |