3 Bow Bimini Top – Stainless Steel
The Oceansouth 3 Bow Bimini Top – Stainless Steel is a premium shading solution for your boat, designed with durability and longevity in mind. Its Ø25mm Snap Lock Frame is crafted from 316 Stainless Steel, ensuring exceptional corrosion resistance and durability, even in harsh marine environments. The use of Stainless Steel fittings further enhances its resilience, making it a reliable choice for long-term use on your vessel.
The Bimini Top is adjustable in height and can be cut down to a 1.1m Height if needed, providing flexibility to suit your specific needs. It features High Tech Polyester ATLAS Canvas weighing 310 g/m2, offering superior UV and weather resistance with a color fastness rating of 6-7 against light exposure. This bimini top is supplied with an integrated storage boot, fabric, heavy-duty webbing straps, and all necessary components for straightforward installation. With a maximum speed rating of 45 knots, it's suitable for a variety of boating activities, providing both shade and protection while maintaining a sleek and durable stainless steel frame. The Oceansouth 3 Bow Bimini Top – Stainless Steel is a smart and robust choice for boat owners looking to enhance their on-water experience.
---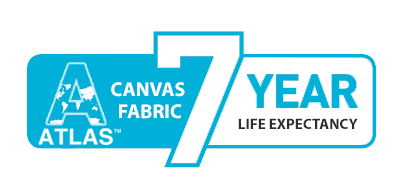 Ø25mm Snap Lock Frame
316 Stainless Steel frame with Stainless Steel fittings
If needed, Bimini can be cut down to 1.1m Height
High Tech Polyester ATLAS Canvas 310 g/m2
UV & weather resistant, colour fastness to light grade 6-7
Supplied with Integrated Storage Boot, Fabric, Heavy duty webbing straps, and components.
Max. Speed Rating 45 knots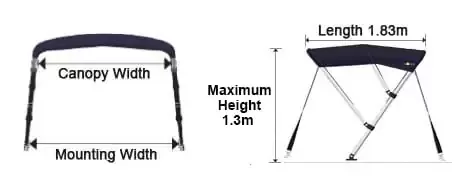 ---
Available Colours