Universal Full Outboard Cover
The Oceansouth Universal Full Outboard Cover is a heavy-duty solution designed to provide comprehensive protection for your engine cowling against dust, grime, and the damaging effects of UV rays. This versatile cover is suitable for both 2-stroke and 4-stroke engines, accommodating a wide range from 2.5hp up to 350hp, making it an excellent choice for complete protection during trailering or storage. Crafted from UV-resistant polyester fabric with water-repellent properties, this cover ensures your outboard engine remains shielded from the elements.
Featuring reinforced top-stitched seams and a zip-up leg section with a drawstring, this cover offers a snug and secure fit, providing optimal protection against water, sun, and grime during transportation or when your boat is in storage. Made from ATLAS premium woven dope-dyed polyester fabric, this Universal Full Outboard Cover boasts both durability and longevity, making it an essential accessory for safeguarding your valuable outboard motor.
Click on the Brand below to view the supported Engines
Supported Mercury / Mariner Engines
| Engines (Shaft Length) | Universal Size fit | SKU |
| --- | --- | --- |
| 2.5, 3.5 (15") | Up to 3.5hp | MA 075-1 |
| 3.5 (20") | 3.5 - 6hp | MA 075-2 |
| 4, 5, 6 (15/20") | 3.5 - 6hp | MA 075-2 |
| 5 (25") | 8 - 20hp | MA 075-3 |
| 8, 9.9 (15/20") | 8 - 20hp | MA 075-3 |
| 9.9 Pro Kicker (20") | 8 - 20hp | MA 075-3 |
| 9.9 Big Foot (20") | 8 - 20hp | MA 075-3 |
| 9.9 (25") | 9.9 - 30hp | MA 075-4 |
| 15, 20 (15/20") | 9.9 - 30hp | MA 075-4 |
| 9.9 Pro Kicker (25") | 9.9 - 30hp | MA 075-4 |
| 9.9 Big Foot (25") | 9.9 - 30hp | MA 075-4 |
| 15 Pro Kicker (20") | 9.9 - 30hp | MA 075-4 |
| 15 Pro Kicker (25") | 25 - 60hp | MA 075-5 |
| 25, 30 EFI (15/20") | 25 - 60hp | MA 075-5 |
| 25 EFI JET (15/20") | 25 - 60hp | MA 075-5 |
| 40 EFI (15/20") | 40 - 100hp | MA 075-6 |
| 60 EFI (20") | 40 - 100hp | MA 075-6 |
| 40, 50, 60 EFI CT (20") | 40 - 100hp | MA 075-6 |
| 40 EFI JET (15/20") | 40 - 100hp | MA 075-6 |
| 60 EFI CT (25") | 70 - 150hp | MA 075-7 |
| 90, 115 EFI CT (20/25") | 70 - 150hp | MA 075-7 |
| 75 EFI (20") | 70 - 150hp | MA 075-7 |
| 90, 100, 115 (20/25") | 70 - 150hp | MA 075-7 |
| 150 EFI (20/25") | 70 - 150hp | MA 075-7 |
| 80 EFI JET (20") | 70 - 150hp | MA 075-7 |
| 75 OPTIMAX (20") | 70 - 150hp | MA 075-7 |
| 90, 115 (20/25") | 70 - 150hp | MA 075-7 |
| 125 OPTIMAX (20/25") | 70 - 150hp | MA 075-7 |
| 115 OPTIMAX PRO XS (20/25") | 70 - 150hp | MA 075-7 |
| 135, 150 VERADO (20/25") | 135 - 250hp | MA 075-8 |
| 175, 200 VERADO (20/25") | 135 - 250hp | MA 075-8 |
| 200,250 OPTIMAX (25") | 200 - 300hp | MA 075-9 |
| 225 OPTIMAX (20/25") | 200 - 300hp | MA 075-9 |
| 150 OPTIMAX PRO XS (20/25") | 200 - 300hp | MA 075-9 |
| 175 OPTIMAX PRO XS (20/25") | 200 - 300hp | MA 075-9 |
| 200 OPTIMAX PRO XS (20/25") | 200 - 300hp | MA 075-9 |
| 225 OPTIMAX PRO XS (20/25") | 200 - 300hp | MA 075-9 |
| 250 OPTIMAX PRO XS (20/25" | 200 - 300hp | MA 075-9 |
| 225, 300 VERADO (20/25") | 200 - 300hp | MA 075-9 |
| 350 VERADO (20/25") | 200 - 300hp | MA 075-9 |
| 250 VERADO (25") | 200 - 300hp | MA 075-9 |
| 200 VERADO (30") | 200 - 300hp | MA 075-9 |
| 250 VERADO (30") | 200 - 300hp | MA 075-9 |
| 300 VERADO PRO (20/25") | 200 - 300hp | MA 075-9 |
| 250 OPTIMAX (30") | 200 - 300hp (Long Leg) | MA 075-9L |
| 225,250 VERADO (30") | 200 - 300hp (Long Leg) | MA 075-9L |
| 300,350 VERADO (30") | 200 - 300hp (Long Leg) | MA 075-9L |
Supported Suzuki Engines
| Engines (Shaft Length) | Universal Size fit | SKU |
| --- | --- | --- |
| DF2.5 (15") | Up to 3.5hp | MA 075-1 |
| DF4, DF5 (15") | 3.5 - 6hp | MA 075-2 |
| DF6 (15/20") | 3.5 - 6hp | MA 075-2 |
| DF8 (15/20") | 8 - 20hp | MA 075-3 |
| DF9.9 (15/20") | 8 - 20hp | MA 075-3 |
| DF15A (15/20") | 8 - 20hp | MA 075-3 |
| DF20A(15/20") | 8 - 20hp | MA 075-3 |
| DF25A (15/20") | 9.9 - 30hp | MA 075-4 |
| DF30A (20") | 9.9 - 30hp | MA 075-4 |
| DF40A, DF50A (20") | 25 - 60hp | MA 075-5 |
| DF60A (20") | 25 - 60hp | MA 075-5 |
| DF60A (25") | 40 - 100hp | MA 075-6 |
| DF60AV (20/25") | 40 - 100hp | MA 075-6 |
| DF70A (20") | 40 - 100hp | MA 075-6 |
| DF90A (20") | 40 - 100hp | MA 075-6 |
| DF70A (25") | 70 - 150hp | MA 075-7 |
| DF90A (25") | 70 - 150hp | MA 075-7 |
| DF115A (20/25") | 70 - 150hp | MA 075-7 |
| DF140A (20/25") | 70 - 150hp | MA 075-7 |
| DF100 (20/25") | 70 - 150hp | MA 075-7 |
| DF150 (20/25") | 70 - 150hp | MA 075-7 |
| DF175 (20/25") | 70 - 150hp | MA 075-7 |
| DF200, DF225 (25") | 135 - 250hp | MA 075-8 |
| DF250 (25") | 135 - 250hp | MA 075-8 |
| DF200A (25") | 135 - 250hp | MA 075-8 |
| DF250AP (25") | 200 - 300hp | MA 075-9 |
| DF300AP (25") | 200 - 300hp | MA 075-9 |
| DF250AP (30") | 200 - 300hp (Long Leg) | MA 075-9L |
| DF300AP (30") | 200 - 300hp (Long Leg) | MA 075-9L |
| DF225 (30") | 200 - 300hp (Long Leg) | MA 075-9L |
| DF250 (30") | 200 - 300hp (Long Leg) | MA 075-9L |
Supported Honda Engines
Engines (Shaft Length)
Universal Size fit
SKU
BF2.3 (15")
Up to 3.5hp
MA 075-1
BF2.3 (20")
3.5 - 6hp
MA 075-2
BF5 (15/20")
3.5 - 6hp
MA 075-2
BF8 (15/20")
8 - 20hp
MA 075-3
BF9.9 (15/20")
8 - 20hp
MA 075-3
BF9.9 (25")
9.9 - 30hp
MA 075-4
BF15 (25")
9.9 - 30hp
MA 075-4
BF20 (25")
9.9 - 30hp
MA 075-4
BF25 (15/20")
25 - 60hp
MA 075-5
BF30 (15/20")
25 - 60hp
MA 075-5
BF40 (20")
40 - 100hp
MA 075-6
Supported Yamaha Engines
| Engines (Shaft Length) | Universal Size Fit | SKU |
| --- | --- | --- |
| F2.5 (15") | Up to 3.5hp | MA 075-1 |
| F4, F6 (15/20") | 3.5 - 6hp | MA 075-2 |
| F8, F9.9 (15/20") | 8 - 20hp | MA 075-3 |
| T9.9 HIGH THRUST (20") | 8 - 20hp | MA 075-3 |
| T9.9 HIGH THRUST (25") | 9.9 - 30hp | MA 075-4 |
| F15, F20 (15/20") | 9.9 - 30hp | MA 075-4 |
| F25 (15/20") | 25 - 60hp | MA 075-5 |
| T25 HIGH THRUST (20") | 25 - 60hp | MA 075-5 |
| F30, F40, F50, F60, F70, F75, F80, F90 (20") | 40 - 100hp | MA 075-6 |
| T50, T60 (20") | 40 - 100hp | MA 075-6 |
| HIGH THRUST (20") | 40 - 100hp | MA 075-6 |
| F60 JET DRIVE (25") | 40 - 100hp | MA 075-6 |
| F100D (20") | 40 - 100hp | MA 075-6 |
| F80, F90, F100D (25") | 70 - 150hp | MA 075-7 |
| F115, F150 (20/25") | 70 - 150hp | MA 075-7 |
| F90, F115, F150 JET DRIVE (25") | 70 - 150hp | MA 075-7 |
| VF115 VMAX SHO (20") | 70 - 150hp | MA 075-7 |
| F175, F200 (20/25") | 135 - 250hp | MA 075-8 |
| VF150, VF175, VMAX SHO (20/25") | 135 - 250hp | MA 075-8 |
| 200 V6, F225 V6, F250 V6 (25") | 200 - 300hp | MA 075-9 |
| F225, F250, F300 OFFSHORE (25") | 200 - 300hp | MA 075-9 |
| VF200, VF225, VMAX SHO (20") | 200 - 300hp | MA 075-9 |
| VF250 VMAX SHO (20/25") | 200 - 300hp | MA 075-9 |
| F250 OFFSHORE, F300 OFFSHORE (30") | 200 - 300hp | MA 075-9L |
Supported Evinrude Engines
| Engines (Shaft Length) | Universal Size Fit | SKU |
| --- | --- | --- |
| 3.5 (15") | Up to 3.5hp | MA 075-1 |
| 4, 6 (15/20") | 3.5 - 6hp | MA 075-2 |
| 8, 9.8 (15/20") | 8 - 20hp | MA 075-3 |
| 9.8 (25") | 9.9 - 30hp | MA 075-4 |
| 15, 25, 30 (15/20") | 9.9 - 30hp | MA 075-4 |
| 40, 50, 60 (20") | 25 - 60hp | MA 075-5 |
| 75, 90 (25") | 40 - 100hp | MA 075-6 |
| 90, 100, 115 (25") | 70 - 150hp | MA 075-7 |
| 115, 130, 150, 175 (20/25") | 70 - 150hp | MA 075-7 |
| 90 H.O, 115 H.O, 135 H.O, 150 H.O (20/25") | 70 - 150hp | MA 075-7 |
| 200, 225, 250 (20/25") | 135 - 250hp | MA 075-8 |
| 200 H.O, 225 H.O (20/25") | 135 - 250hp | MA 075-8 |
| 225 H.O. (20/25") | 200 - 300hp | MA 075-9 |
| 300 (20/25") | 200 - 300hp | MA 075-9 |
| E-TEC G2 200-300 hp (20/25") | 200 - 300hp | MA 075-9 |
| 250, 300 (30") | 200 - 300hp | MA 075-9L |
| E-TEC G2 200-300 hp (30") | 200 - 300hp | MA 075-9L |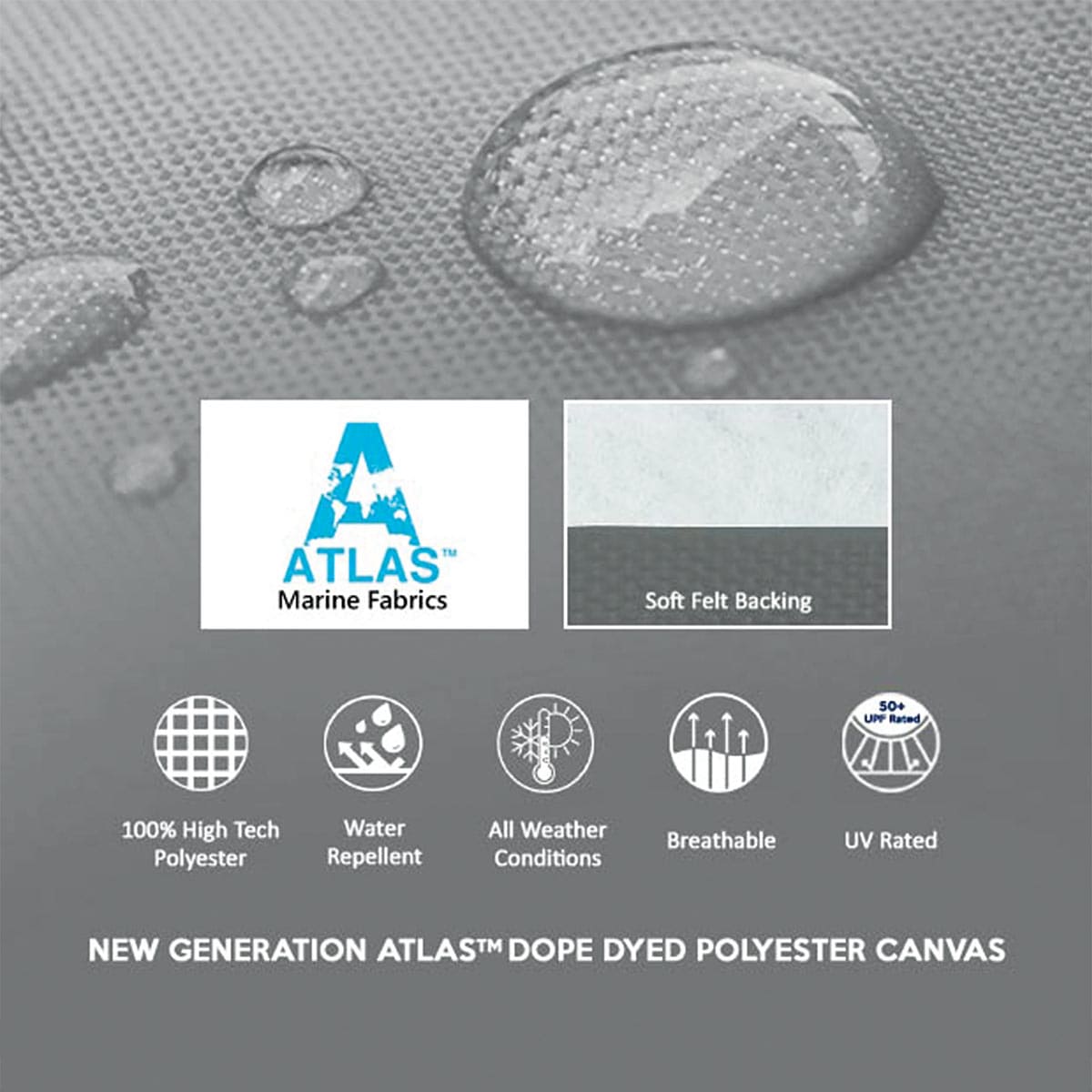 Weight

340 g/m2

Material

100% High Tech Polyester

Water Column

≥ 150 mbar (1500 mm)

Light & Weather Fastness

Note 6-7

Tensile Strength

≈ 2200 N¹ | 1400 N²

Elongation

≈ 40 %¹ | 30 %²

Colour Fastness to rubbing

Note 4-5³ | Note 44

Chlorine Resistant

Note 4-5

Water 

Repellency

Note 100

Oil 

Repellency

Note 4

Coating

Polyurethan [PU]

UV Protection Factor

UPF 50+
(measured value > UPF 80)