T Top Boat Covers
The Oceansouth T-Top Boat Cover is the epitome of heavy-duty protection, designed to safeguard your boat against the toughest elements while ensuring easy installation and durability. Featuring a Heavy Duty Boat Cover Tie‐Down Kit, this cover is engineered to stay securely in place, even during rough conditions. The use of UV Marine grade threads and Heavy Duty 1/14″ Draw rope encased in the hem guarantees not only a snug fit but also long-lasting performance, making installation effortless with the help of a Rope Ratchet.
The construction of the Oceansouth T-Top Boat Cover is built for strength and endurance. Its double stitch construction ensures added strength and durability, while tie-down loops sewn into the hem provide extra security. Join seams are meticulously folded four-ply, leaving no raw edges, ensuring the cover's longevity and resistance to wear and tear. What sets this cover apart is its use of Atlas fabrics, which are 100% Dope Dyed Polyester and UV protected. The color and UV protection are integral to the polyester fiber itself, ensuring that the cover's color and strength endure for up to 7 years under normal conditions, making it a wise investment for boat owners who value long-lasting quality and protection.
For boat owners who demand uncompromising protection, the Oceansouth T-Top Boat Cover is the ultimate choice. Its heavy-duty design, secure tie-down system, and UV-protected fabric offer superior durability and protection, ensuring your boat remains in peak condition for years to come. Whether you're storing your boat or towing it, this cover is the dependable choice for safeguarding your valuable watercraft.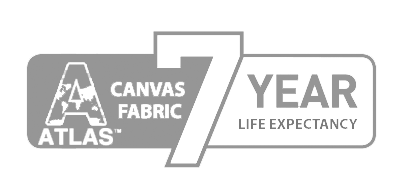 When measuring your boat, use the overall fabric measurement instructions below for a more accurate boat cover selection.
Attention: To fit twin-engine boats, choose one size larger.
BOAT LENGTH
BEAM WIDTH
ORDER CODE
5.3m – 5.6m (17′ 7″ – 18′ 6″)
2.6m (102″

)

MA 505-1

5.6m -5.9m (18′ 7″ – 19′ 6″)

2.6m (102″) 

MA 505-2

5.9m – 6.2m (19′ 7″ – 20′ 6″)

2.6m (102″)

MA 505-3

6.2m – 6.5m (20′ 7″ – 21′ 6″)

2.6m (102″)

MA 505-4

6.5m – 6.8m (21′ 7″ – 22′ 6″)

2.6m (102″)

MA 505-5

6.8m – 7.2m (22′ 7″ – 23′ 6″)

2.6m (102″)

MA 505-6

7.2m – 7.5m (23′ 7″ – 24′ 6″)

2.6m (102″)

MA 505-7

7.5m – 7.8m (24′ 7″ – 25′ 6″)

2.6m (102″)

MA 505-8

7.8m – 8.1m (25′ 7″ – 26′ 6″)

3m (120″)

MA 505-9

8.1m – 8.4m (26′ 7″ – 27′ 6″)

3m (120″)

MA 505-10

8.4m – 8.7m (27′ 7″ – 28′ 6″)

3m (120″)

MA 505-11

8.7m – 9.0m (28′ 7″ – 29′ 6″)

3m (120″)

MA 505-12

9.0m – 9.3m (29′ 7″ – 30′ 6″)

3m (120″)

MA 505-13

9.3m – 9.6m (30′ 7″ – 31′ 6″)

3m (120″)

MA 505-14

9.6m – 9.9m (31′ 7″ – 32′ 6″)

3m (120″)

MA 505-15

9.9m – 10.2m (32′ 7″ – 33′ 6″)

3m (120″)

MA 505-16

10.2m – 10.5m (33′ 7″ – 34′ 6″)

3m (120″)

MA 505-17
RECOMMENDED ACCESSORIES