Foldable 2 Bow Bimini Top
The Oceansouth 2 Bow Bimini is a robust and high-quality bimini top designed for smaller open boats and inflatable boats. With its trim design and 25mm anodized aluminum tubing, this bimini provides reliable shade and protection for your boating adventures. It's well-suited for both open boats and inflatable boats, offering versatility in its application.
Constructed from high-tech polyester ATLAS canvas with a weight of 220 g/m2, this bimini top is UV and weather-resistant, ensuring durability and color fastness even under challenging marine conditions. The marine-grade nylon fittings add to its longevity. The package includes everything you need, such as the integrated storage boot, aluminum framework, fabric, heavy-duty webbing straps, crossbars, and components, making installation and setup a breeze. With a maximum speed rating of 45 knots, the Oceansouth 2 Bow Bimini combines functionality and performance, making it a valuable addition to your boat.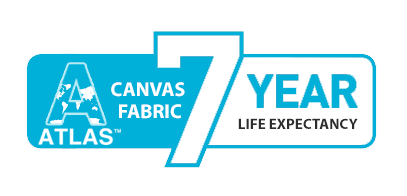 Suitable for Open and inflatable Boats
Ø25mm Anodized Aluminium snap lock frame
High Tech Polyester ATLAS Canvas 220 g/m2
UV & weather resistant, color fastness to light grade 6-7
Marine-grade Nylon fittings
Max. Speed Rating 45 knots