3 Bow Whitewater Bimini Top – Aluminium
The Oceansouth 3 Bow Whitewater Bimini Top is a high-quality, rugged shading solution designed to withstand even the harshest conditions. Ideal for a range of boat types, including open boats, runabouts, ski boats, and half cabins, this bimini top is built to provide reliable protection and durability. Its 25mm anodized aluminum double-wall snap lock frame ensures a sturdy and secure structure, capable of standing up to the demands of whitewater boating and other challenging environments.
Constructed from high-tech polyester ATLAS canvas with a weight of 310 g/m2, this bimini top offers exceptional UV and weather resistance while maintaining color fastness. Marine-grade nylon fittings and stainless steel 316 fasteners enhance its durability and longevity. With a maximum speed rating of 40 knots, this bimini top is engineered to perform in high-speed watercraft. It comes complete with support poles and an integrated storage boot, making installation and storage hassle-free. Whether you're navigating whitewater or enjoying a leisurely cruise, the Oceansouth 3 Bow Whitewater Bimini Top provides the protection and reliability you need to enjoy your boating experience to the fullest.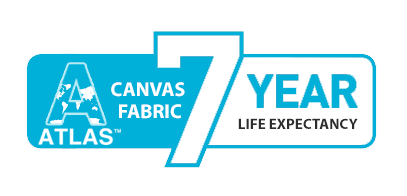 PRODUCT INFORMATION
25mm Anodized Aluminium double wall aluminum snap lock frame
High Tech Polyester ATLAS Canvas 310 g/m2
UV & weather resistant, with colour fastness
Marine grade nylon fittings, stainless steel 316 fasteners
Max. Speed Rating 40 knots
Supplied with Support Poles & Integrated Storage Boot