3 Bow Whitewater Pro Bimini Top – Aluminium
The Oceansouth 3 Bow Whitewater Pro Bimini Top represents the pinnacle of professional quality in shading solutions for your boat. Built with genuine craftsmanship, this bimini top is engineered to endure the toughest conditions. Its 25mm aluminum tubes boast extra strength with a robust 3mm wall thickness, ensuring a sturdy and resilient frame that can withstand the rigors of professional boating. The rigid Snap-Lock frame design further enhances its durability and performance.
Constructed with High Tech Polyester ATLAS Canvas, weighing 310 g/m2, this bimini top offers exceptional UV and weather resistance, with a color fastness rating of 6-7 against light exposure. It comes complete with an integrated storage boot, fabric, heavy-duty webbing straps, support poles, and all necessary components for easy installation and use. Rated to handle speeds of up to 50 knots, this bimini top is well-suited for professional boaters and enthusiasts who demand the highest level of quality and performance. Additionally, it is available with a rocket launcher rod holder attachment, making it a versatile and practical addition to your boat for fishing and other water activities. The Oceansouth 3 Bow Whitewater Pro Bimini Top is the ultimate choice for those seeking top-tier shading and protection for their boating adventures.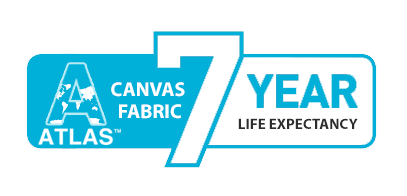 Rigid Snap-Lock frame

High Tech Polyester 

ATLAS Canvas 310 g/m2

UV & weather resistant, colour fastness to light grade 6-7

Supplied with

Integrated Storage Boot, Fabric, Heavy duty webbing straps, Support Poles, and components.

Rated to 50 knots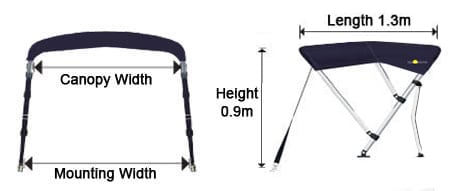 * Height extensions 150mm ( pairs) are available