4 Bow Bimini Top – Aluminium
The Oceansouth 4 Bow Bimini Top is a top-of-the-line shading solution for your boat, designed to provide maximum protection and comfort on the water. Its robust Ø25mm snap lock frame ensures a secure and reliable structure to shield you from the elements. Crafted from high-tech polyester ATLAS canvas with a weight of 310 g/m2, this bimini top boasts exceptional UV and weather resistance, making it a durable choice for extended outdoor use. It is built to withstand the harshest marine conditions, ensuring its longevity and colorfastness with a rating of grade 6-7 for protection against light-induced fading.
One of the standout features of this bimini top is its adaptability. If needed, it can be easily shortened to a height of 1.1m, allowing you to customize it to your specific preferences and needs. The package includes an integrated storage boot, fabric, heavy-duty webbing straps, and components, making installation straightforward and hassle-free. With a maximum speed rating of 45 knots, the Oceansouth 4 Bow Bimini Top combines functionality, versatility, and performance, making it an excellent addition to your boat for superior sun protection and comfort during your boating adventures.
---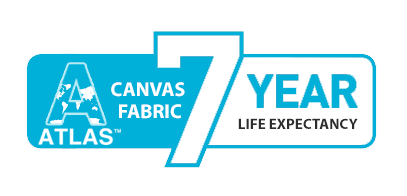 Ø25mm Snap Lock Frame
High Tech Polyester ATLAS Canvas 310 g/m2
If needed, Bimini can be shortened to 1.1m Height
UV & weather resistant, colour fastness to light grade 6-7
Supplied with Integrated Storage Boot, Fabric, Heavy duty webbing straps and components.
Max. Speed Rating 45 knots

AVAILABLE COLOURS