Universal Storage Cover
The Oceansouth Universal Storage Cover is a versatile and practical solution for boat owners seeking reliable protection during winter storage or when their boat is not in use. Available in four different sizes to accommodate various boat types, this universal cover is designed to fit a wide range of vessels, making it a versatile choice for boat owners with different watercraft.
Constructed from extra strong 160g/m2 PE Tarpaulin fabric, this cover offers exceptional durability and is waterproof to keep your boat safe and dry. It comes complete with a Tie Down Kit, ensuring a secure and tight fit to protect your boat from the elements. Whether you require light trailering or mooring, this cover is up to the task, and its design includes no metal parts or abrasive seams, which means your boat's finish is safeguarded from potential scratches or damage during storage or transportation. The Oceansouth Universal Storage Cover is a reliable choice to keep your boat protected year-round.
Extra strong 160g/m2 PE Tarpualin fabric
Waterproof
Supplied with a Tie Down Kit
Light trailering and mooring
No metal parts or abrasive seams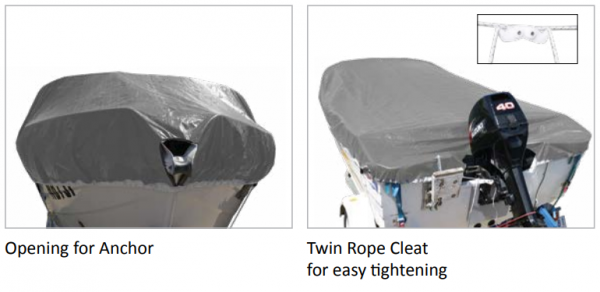 BOAT LENGTH
SIZE
MAX.
BEAM WIDTH
ORDER CODE
3.3m – 4.0m
A-Small
1.8m
MA 071-1
4.0m – 4.5m
B-Medium
2.05m
MA 071-2
4.5m – 5.4m
C-Large
2.4m
MA 071-3
5.4m – 6.4m
D-Extra Large
2.6m
MA 071-4